OSB_LIB::CdrList Class Reference
Collaboration diagram for OSB_LIB::CdrList: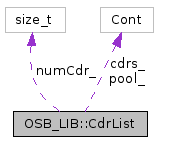 [legend]
List of all members.
---
Detailed Description
Wrapper around STL-container for OSB_LIB::Cdr.

The idea of this class is two-fold:
firstly it allows the forward declaration of the class
and secondly we later might think of reusing the list members.

The performance of size() for STL list is bad on g++-3.3:
therefore the class maintains the CDR counter itself.

Definition at line 61 of file cdrlist.h.
Public Types
Public Member Functions
Private Types
Private Member Functions
Private Attributes
---
Member Typedef Documentation
---
Constructor & Destructor Documentation
---
Member Function Documentation
---
Member Data Documentation
---
The documentation for this class was generated from the following file:
---
Generated on Sat Sep 2 14:15:14 2006 for OSB Library by

1.4.7