OSB_LIB::DateTime Class Reference
Collaboration diagram for OSB_LIB::DateTime: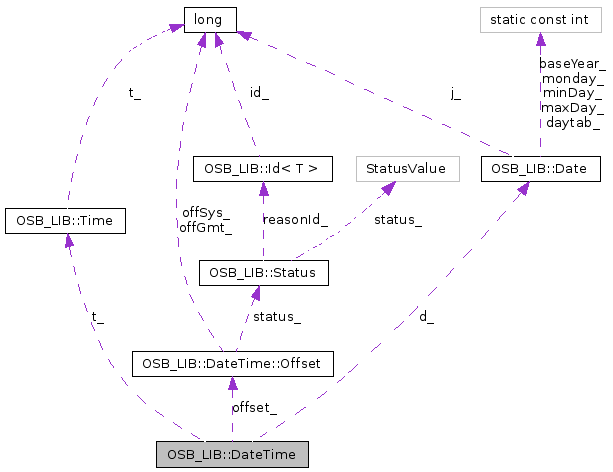 [legend]
List of all members.
---
Detailed Description
Support for timestamps (date and time).

In OSB timestamps are expressed relative to the system clock: they don't carry timezone or daylight saving time information.
This definition was choosen to allow for fast comparsions.

The member offset_ allows to define a timeshift, expressed in seconds east of UTC.

Definition at line 386 of file chrono.h.
Public Member Functions
Static Public Member Functions
Private Member Functions
Private Attributes
Classes
---
Constructor & Destructor Documentation
---
Member Function Documentation
---
Member Data Documentation
---
The documentation for this class was generated from the following file:
---
Generated on Sat Sep 2 14:11:02 2006 for OSB Library by

1.4.7