OSB_LIB::LogBase Class Reference
Inheritance diagram for OSB_LIB::LogBase: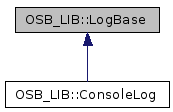 [legend]

Collaboration diagram for OSB_LIB::LogBase: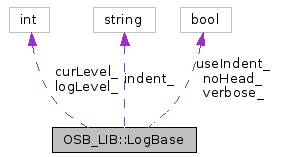 [legend]
List of all members.
---
Detailed Description
Interface definition for the logging implementation.

Logging levels
1: fatal errors
2: errors
3: warnings
4: normal messages
5-7: debugging messages
Design comments
Because of the output operator template there is unfortunately no reasonable way to hide (and isolate) the optional logging to a secondary output stream.
The following however can be implemented in the concrete implementations of the interface:
locking of the output streams for multithreaded applications
buffering of log messages until the log file can be opened
The current design is weak because the class controls both, access to the output streams and the output format (the header of the logged message). Two new classes may replace the current class in a future version: LogAccess and LogFormat; AFAICS today, the interface of the purely static class Log however should not be affected.
Note:

The implementation of the virtual functions should not write to plog() (and slog()) directly, but redirect all output to itself: This way the output operators take automatically care of the log level and the optional outout to the secondary stream.
Definition at line 99 of file osblog.h.
Public Member Functions
All functions call start() with the appropriate level.


Protected Member Functions
Protected Attributes
Classes
---
Constructor & Destructor Documentation
---
Member Function Documentation
---
Member Data Documentation
---
The documentation for this class was generated from the following file:
---
Generated on Sat Sep 2 14:12:14 2006 for OSB Library by

1.4.7