OSB_LIB::Shared< T > Class Template Reference
Collaboration diagram for OSB_LIB::Shared< T >: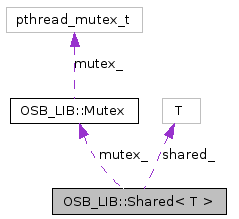 [legend]
List of all members.
---
Detailed Description
template<typename T>
class OSB_LIB::Shared< T >
Protect a shared resource with a Mutex.

Definition at line 850 of file mutex.h.
Public Member Functions
Private Member Functions
Private Attributes
---
Constructor & Destructor Documentation
Prevent copying: not implemented.
---
Member Function Documentation
Prevent assignment: not implemented.
---
Member Data Documentation
---
The documentation for this class was generated from the following file:
---
Generated on Sat Sep 2 14:11:38 2006 for OSB Library by

1.4.7