OSB_LIB::InvoiceInfo Struct Reference
Collaboration diagram for OSB_LIB::InvoiceInfo: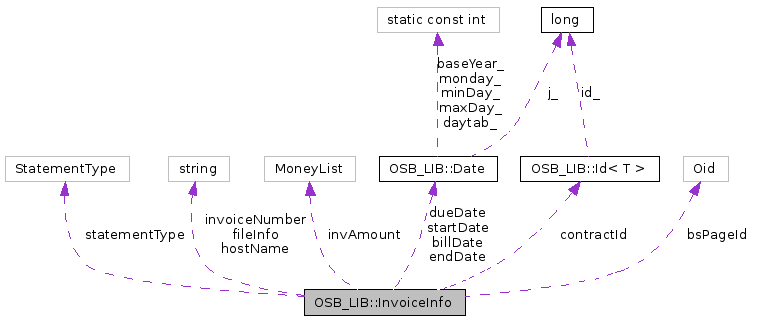 [legend]
List of all members.
---
Detailed Description
InvoiceInfo is used as container for the invoice data to be written to the database.

The billing application populates the members and calls the InvoiceDir::close funtion. This in-turn calls the invoicedir gateway to insert this data into table STATEMENT_INFO.

Definition at line 87 of file invoicedir.h.
Public Types
Public Member Functions
Static Public Member Functions
Public Attributes
---
Member Enumeration Documentation
---
Constructor & Destructor Documentation
---
Member Function Documentation
---
Member Data Documentation
---
The documentation for this struct was generated from the following file:
---
Generated on Sat Sep 2 14:10:20 2006 for OSB Library by

1.4.7